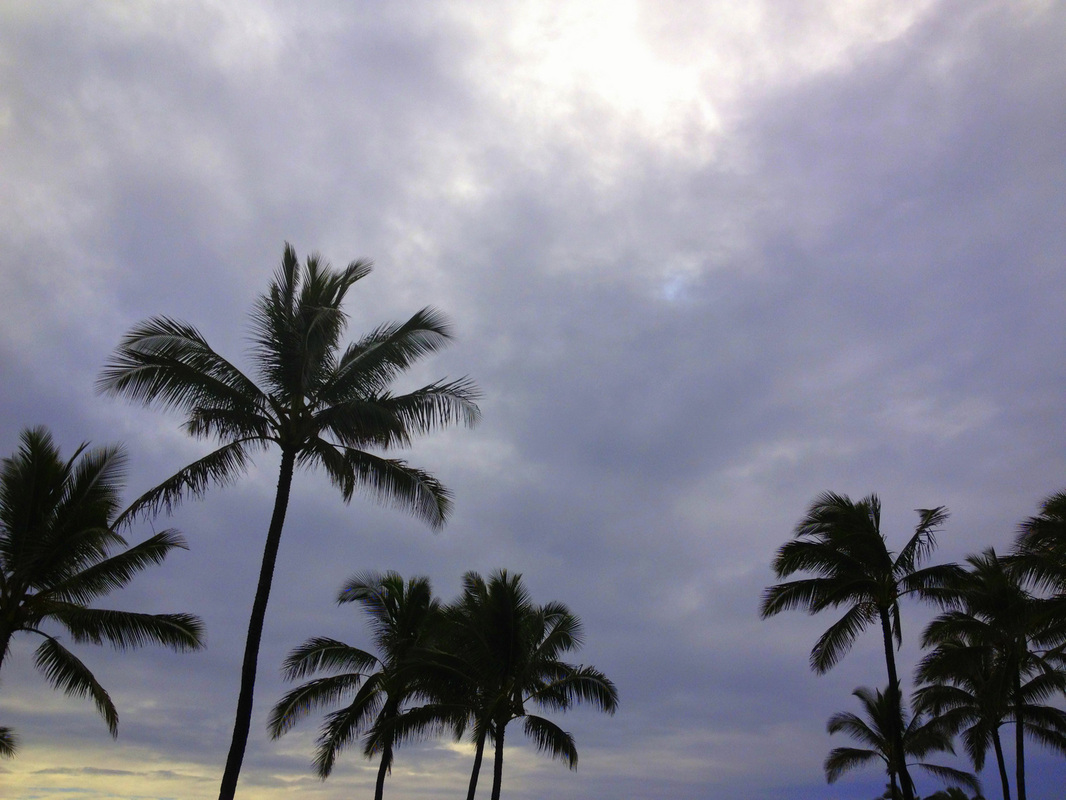 It has been raining on Kauai for the last couple of weeks. The sky has clouded, the breezes have blown. The rain has fallen lightly at times, with intermittent "dumped on like a bucket of water" moments to remind us we are in the middle of winter. Yes, it is winter on the beautiful Garden Isle. Temperatures have plummeted to a frigid 78 F. in the daytime and a bone chilling 65 F. at night. It saddens me to watch everyone walk around in shorts and tank tops, knowing they are suffering beyond belief during this current "cold snap". I, in fact, have suffered greatly. Yes, just yesterday I got a little wet while pulling two papayas from the tree in front of our kitchen .. and I did get my slippah (flip flops) soaked while walking around our yard looking at freshly bloomed orchids. Harvesting cucumbers wasn't too bad, since they are planted under the overhang of our eaves, but what a pain in the neck getting mud on my hands while extracting fresh ginger from the little ginger patch .. I actually had to turn on the hose and rinse! I mean, seriously, this last couple of weeks has been rough. To top it off, I almost got a chill one day last week .. almost.

No more kidding around. I realize Kauai has the best weather on Earth. If nothing else about Kauai was positive (but so many things are positive) the weather alone would suffice to sustain my love affair with this wonderful place.

Just checked the weather in Paris .. it is 38 F. I can envision the wonderful people of France, bundled for the elements in fashionable attire, which typifies their natural penchant for elegance and panache. I smell the café au lait and feel the texture of perfect baguette on my palate .. enhanced by a favorite Brie or some other supernaturually supreme cheese which only tastes "right" when in Europe. Skies above are surely Paris Haze .. the perfect backdrop for outlining majestic architecture throughout Paris & Versailles as one casts an eye upward. Music floats gently out of Brasseries, where everyone settles in to the warmth, ambience, and headiness of an evening filled with perfect food and vin de pay. And afterwards, what a pleasure to step outside into the brutalizing cold following an enjoyable evening with friends. Yes, it is unbridled joy to gasp as that first breath of icy air hits your lungs .. this accentuated by the marvel of condensed expiration which hangs in the air, a silent expletive.

No more kidding around. I realize Paris will likely never win praise for weather. Therefore, all other entities related to France must offset and displace those frigid winter evenings. For me, a simple Brasserie, a fresh baguette, or a stroll down nearly any avenue suffices to sustain my love affair with this most wonderful place .. weather be damned 'cause everything else is divine.

Two places, completely different .. with only the human spirit connecting them in any manner. Both places distinct and vibrant for what they bring to the table. I am thrilled to suffer the chill of winter evenings in Paris .. which signal the start of a nights revelry. As for Kauai, what more need I say than "Let it rain .. let it rain .. let it rain" ...

What a world .. what a wonder. Stimulation sits round every twist and turn .. Awe arises with every breath of a new experience. Beauty cascades from the faces of strangers as readily as it appears upon man made wonders or the bounty of nature. Go Man! Go Woman! Enjoy our world .. there is much for you to see, feel, hear, and experience ....

From Kauai to Paris ... and all places between