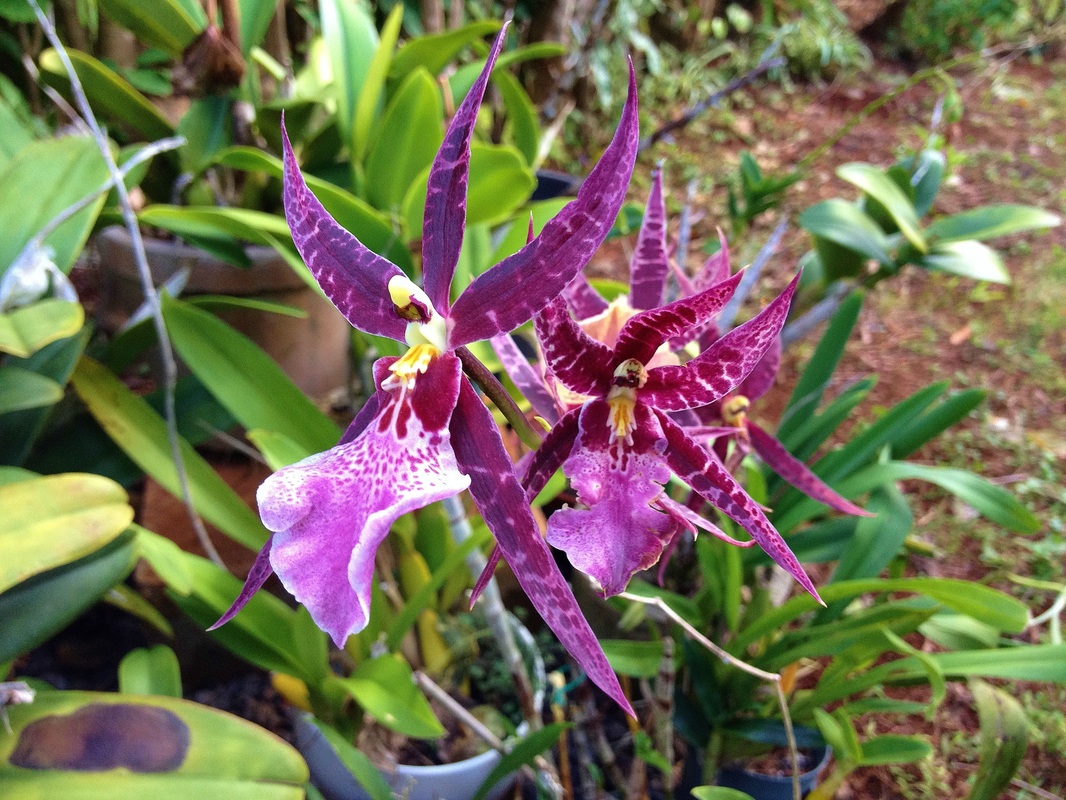 Fine folks from around our world depart their ice encrusted homes to experience a Winter holiday on beautiful Kauai. I wonder how many of these visitors realize we are in the dead of winter while they are lying on the beach, soaking up the rays of an eighty degree sun and watching for the next whale to breach on a perfect Hawaiian day.

Yes, everyone, we do experience the same Winter you experience in Chicago, New York, and Paris. Even though the temperature doesn't vary so much and there is no terrestrial covering of frozen liquids, please know we are suffering. Good example; over the last two weeks I have watched in dismay as my prized plumeria tree shed its leaves. In a very short period of time this lovely green tree with the beautiful and aromatic flowers has become a simple geometric form, sitting naked in the middle of all those other plants that never shed their lovely "plumage". This completely destroys the conformity of a perfect visual feast at the driveway and entrance to our home. I'll never understand why plumeria is the only plant in our yard recognizing the change of season and disrupting the entire balance we work so hard to maintain. I must remind myself to be strong and accept the inevitable .. it is Winter.

I will .. I must .. accept these seasonal changes which completely disrupt the perfection of our island home. Smaller "winter mangos" instead of the oversize Hayden's, shorter days which allow a little less beach time (though I must say a nighttime Luau with Tiki Torches is a special "winter treat" .. or summer ..), and I recall one evening a few years back when I actually had to wear a long sleeve shirt .. can you imagine! But I will muddle through, folks, and come next Spring I will rejoice as the plumeria once again puts forth those strong skinny leaves which facilitate fragrant flowers. I'll gut it out with the smaller winter mangos (note: the winter mangos have an incredible flavor!), having to peel two instead of just one magnificent Hayden. I'll continue to harvest my papaya regularly, just so the plumeria doesn't feel too naked in the face of those nearby trees which are bursting with luscious fruit all year long. Most importantly, I will make certain to speak regularly to the many orchids and other blossoming flowers over the next few months as they bravely endure the frigid 64 degree nighttime temperatures. We will make it !

All will be well on Kauai this Winter. Visitors will enjoy our beautiful beaches as we suffer in silence amidst the ravages of Winter.

But what about FRED ?
There have been so many queries about the welfare of
FRED my midnight buddy
(click here to go meet FRED and hear his story)
as Winter charges in, I feel compelled to share the following with you:
As if the failing plumeria, the smaller mangos, and the shorter "beach challenged" days were not enough .. it saddens me to share with you, my faithful followers and Friends of FRED, that his Royal Toadness has not appeared for some time. Further, shortly after FRED no longer graced us with midnight appearances for our chats .. his entire following dwindled, until now .. three weeks later .. there is not one visitor as Baby, Vicious Bitch and I gaze into the darkness, longing for our lost friends.
Damn this Winter! Damn this disruptive force which separates the best of friends and decimates special moments with its frigid nightly onslaught of 65 degree weather! Oh, the cruelest of the cruel .. driving a wise and humble creature to languish deep within the earth while Winter has its way with us. Okay, I can deal with the plumeria, eat the smaller mangos (they do taste good!), suffer the shorter days and bear the plunging temperatures .. but FRED .. you have to mess with FRED !?! Damn, damn, and double damn Winter .. have you no heart?
Dear Readers: I pledge to you and I pledge to FRED I will hold my head high, though my heart is heavy. I will not forget the familiar sound as he comes up the steps, nor will I forget the many nights he has shared with Vicious Bitch, Baby, and me. We will honor his memory as the months drag by and the icy grip of Winter attempts to erase all that is good on Kauai. And, as God is my witness, we will be there on a glorious Springtime night when once again Winter will be nothing more than a bitter memory and FRED will arise to be with us once again. Yes, folks, we will make it. Don't cry for us on Kauai ...
but please do keep FRED in your hearts ...
from Kauai to Paris ... and all places between
until he is freed from Winters savage fury.
Aloha,Bill
Looking Back .. Click here for a blast from the past