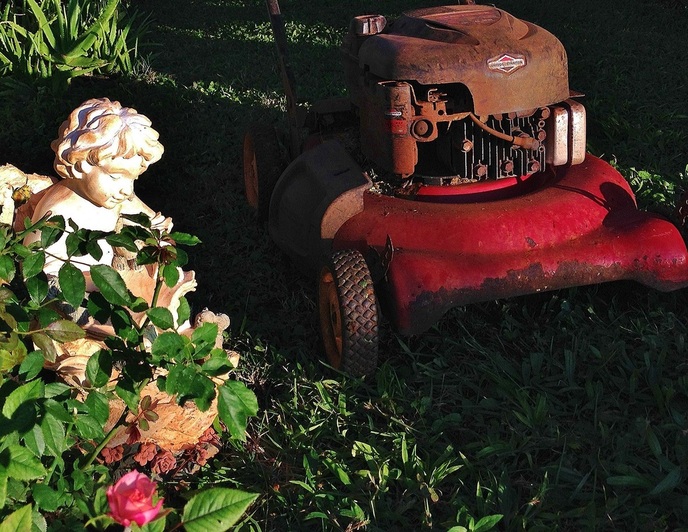 My Craftsman lawn mower resides in it's designated spot until nature works her magic and the yard cries out for aesthetic renewal. I realize it may sound somewhat hokey, but pushing that little red machine .. that diminutive "whirling dervish" .. out of my carport, then pulling the start cord and listening as the engine "whirs" to life, is the beginning of a wonderful afternoon for this man .. every single time. I am happy and alive from the moment I realize there is time in my day to go out and mow the yard.

Once the "dance" begins, I am transported away from all problems and cares .. clearly focused on the grass before me and the task at hand. I don't believe I've altered the original mowing pattern since the first day I pushed my little red mower around the yard in 2006 .. it was "right" then and it is "right" now. Every single nuance of the act is positive; I receive the gift of non-thinking for a couple of hours .. sweat pours from my body in a cooling flood of cleansing .. the sunshine kisses me .. I receive instant gratification as me and my machine slowly trudge along the newly manicured path provided by blades below, constantly accompanied by the sure and steady soothing hum of a trustworthy engine. For a few short and special hours every two weeks or so, my dull red Craftsman and me .. we are the "whirling dervish" .. bound together in a thoughtless and impassioned ritual which consistently produces the desirable entities of rejuvenation and beauty.

Yeah, the act of mowing my yard is good stuff .. but I didn't sit down to write about pushing the mower. This post was inspired by that "after" thing .. that soft afternoon glow which magically appears as golden dusk .. the complete silence immediately after the engine ends and before frightened birds and Kauai chickens return to fill the air with their sounds and songs, once again trusting they are in no danger. A unique and comforting sensation overcomes me at that moment in time, the marriage of many emotions; satisfaction of completing the task .. joy of feeling the newly created ethereal beauty which surrounds me .. security and pride attached to the knowledge "this is my place .. my refuge", and pleasure in knowing the yard is now very pleasing to anyone who may walk or drive by and glance in this direction. This time immediately after mowing purges every negative thought from my being.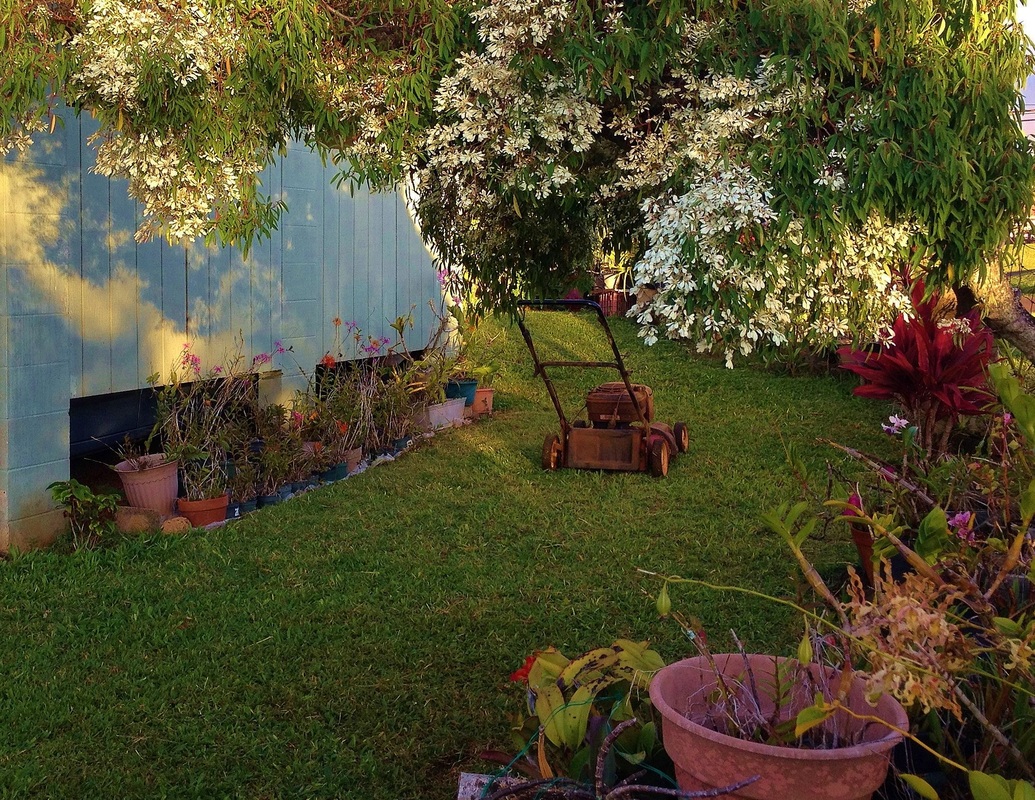 The dance is over, the dervish in repose, and I occupy my favorite lawn chair with a plethora of thoughts, no doubt stimulated by the immediate clarity and pure joy of the moment. I am at peace .. Je suis très content ...

Tomorrow morning, as the sun awakens and shadows are still long and soft, I will walk the yard and be touched by yet another unique sensation .. the crisp and clean look of newly cut grass, crowned by morning dew ... and then .. it is over.

Once the morning is gone there is nothing but anticipation. Craftsman and I watch the grass grow and anxiously await another dance ... while our yard Angel quietly contemplates the beauty of a Rose.

C'est la vie ...

from Kauai to Paris ... and all places between