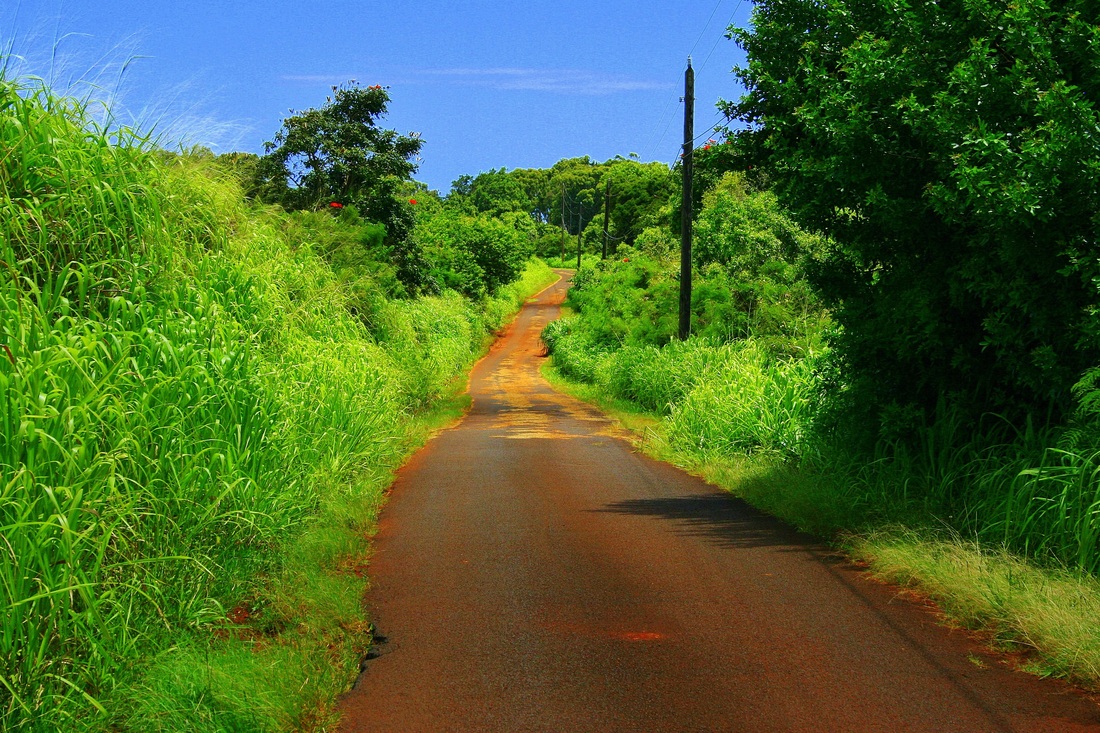 Pu'u Road on Kauai is my therapist, my health guru, my place of inspiration, my perfect muse. Pu'u Road is my walk. What a blessing it is to wander from the front door of our home into the beauty of this island on a daily basis. Many times I have exclaimed to visitors I am one of the luckiest 67,091 people on the face of Earth .. this being the current population of Paradise.

Of course, living in paradise does not automatically create the perfect existence .. this is our individual calling .. happiness being within. I'm certain there are happy people living in the least hospitable of places and unhappy folks right here on the Garden Island .. C'est la vie.

I want to be happy and the walks on Pu'u contribute greatly to that goal. A typical pace keeps me on the trail for one hour and forty five minutes each day .. one hour and forty five minutes to contemplate and process the current state of life. These hours of trekking around Pu'u have provided many "aha" moments over the years .. nature's gift of peace in solitude, causing me to constantly be aware I am indeed a fortunate man.


This morning I walked, and ran, and jogged, and thought.

Possibly you've had this same mental rumination ..

Asked for guidance .. got guidance ..

Loudly .. Clearly


"Quit Asking! .. you are equipped with everything you need ..

just turn on your Mindshield Wipers ..

let the light in"


I didn't hear "knucklehead" or "dumbass" at the end ..

but ...

_____


Wishing each of you your own Pu'u Road ..
and great Mindshield Wipers

from Kauai to Paris .. and all places between

Aloha,
Bill