Baby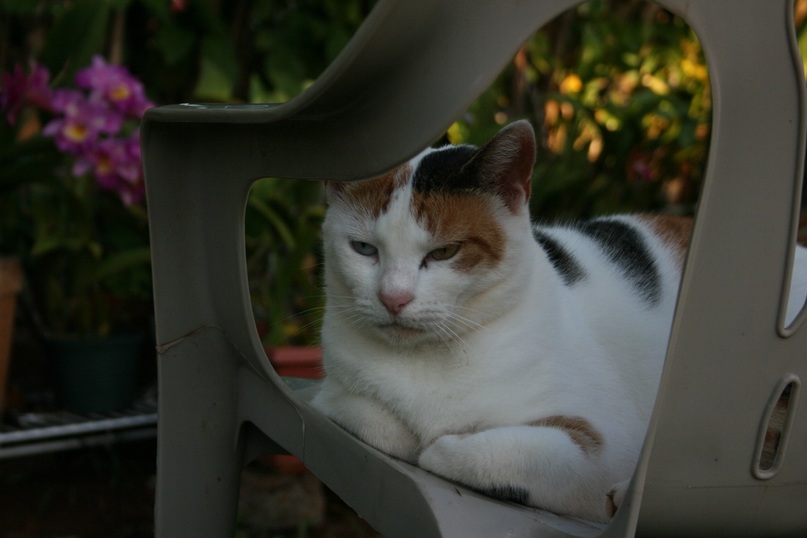 Never had a cat .. never wanted a cat .. didn't like cats.

Then along came Baby.


Any of you who have ever visited the Garden Isle know we have a population of feral cats. White cats, black cats, yellow cats, calico cats, small cats, big cats, handsome cats, pretty cats, and butt ugly cats .. any cat you can conjure in your imagination is probably present on Kauai. These tropical felines have no natural predators, don't jump out of the bushes and attack anyone, are quiet at night, and I prefer them to the rats they savor .. so, space they occupy is a safe zone, as far as I'm concerned. In short - they don't bother me .. I don't harass them. That's how it has always been between me and the cats of Kauai .. clear back to 1987 when I first moved here.

Then along came Baby.

In December of 2006 I purchased our present home. It is a wonderful 1941 plantation style which was completely renovated and is as pleasing today as it was the first time I showed it to a prospective Client I was working with at the time. That, of course, is another story .. which I will happily share one day. As Darlene and I settled into our new found digs, we immediately began spending a large amount of time making the yard "ours". Today, five years later, we have a wonderful environment of orchids, papaya trees, Hawaiian chili peppers, gardenias, pikaki, and too many incredible plants to list or recall in a single setting. But five years ago we were "fighting the jungle" in a concentrated effort to create what we now enjoy. It wasn't long into this process before I noticed them .. two almond shaped eyes, watching warily from behind the panix hedge bordering our home.



Proving you are master of your domaine .. that you can conquer, control, and befriend a creature in the bush is only a good thing if you wish to be conquered, controlled, and befriended.



Yes .. I did it. I did it and she now occupies HER space on MY porch .. always in front of the door .. an immovable and glorified Kauai Sloth Cat Creature of great proportion that now exists only to torment HER humans with inhumane psychic messages pertaining to more .. more .. and more. Forgotten are those days spent in the wild, scrounging for rats, not enjoying the supple qualities of "homo sapienic touch". Herald the present .. in the land of albacore, served to her and her refugee friend, Vicious Bitch (yes, there is another ... and you'll hear about Vicious in the future). She (they) dine in splendor, on those "special plates" with paw prints and elegant features. One can Chicken of the Sea Albacore daily, mixed with Nzymes, as well as the "necessary" hypo-allergenic dry food, assures me they will never, ever, for any reason, by any chance, nor by Divine Providence ... leave. But for some reason, clouded by mystery, I love them.


My space was once uncluttered .. my castle my kingdom ...

Then along came Baby

Once upon a time there was a feral human working in his yard ...