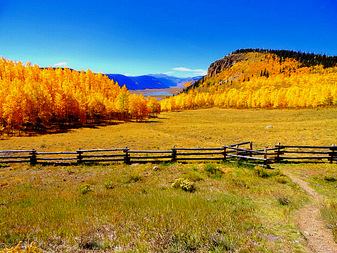 Colorado in Autumn
Nearing 2013 and here I sit on beautiful Kauai .. with clipped wings. Not unhappy about my present GPS position or my circumstance in life .. in fact, quite the opposite. Only 65,000 other souls are fortunate enough to call this magnificent Island of Kauai "home". However, that always pervasive feeling which constantly draws my thoughts to other fascinating and wonderful locales smolders inside, waiting for a rush of pure oxygen to ignite the fires and send me hurtling through space to other "homes" that have become vital pieces of my intricate life dance. Am I spoiled? Yes, absolutely spoiled rotten .. by my own design. Am I fortunate? Beyond my wildest dreams. Am I grateful? Oh Yes .. to every person who has ever contributed one second of participation and energy towards my self realization of seeing those parts of our Green & Blue Sphere which draw me like a moth to the flame. So, why is it I sit here in the midst of melancholy?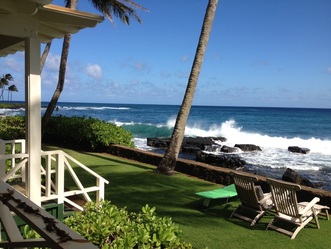 Poipu on Kauai
I've decided to blame the Scientists for my malaise. That's right, those brilliant men and women who are blessed with minds that transcend the norm. Those genius creatures who have given their God granted gifts to us regular Jills & Joes of the world. You know, gifts like the wheel, fire, mathematics, biology, trigonometry, root beer, quantum physics, molecular fusion, pop tarts, robots, Flo bots, space shuttles, submarines, vaccines, computers, Ipods, Ipads, Dick Tracy Wrist Radios, limousines, checkers, chess, slot machines, artificial hearts, artificial parts, slinkies, toy trains, artificial brains, AND the Edsel. With this plethora of inventive force, the magnitude of creative concepts, and the brilliance of idea to design .. Scientists you have failed me ... Where is "THE POD"? Where is that fulfilling sphere of instant transport I dream of daily? That magical devise, designed for me to be instantly transported to France for dinner, Colorado for a Rocky Mountain sunrise, and back to Kauai for the softest sunset imaginable?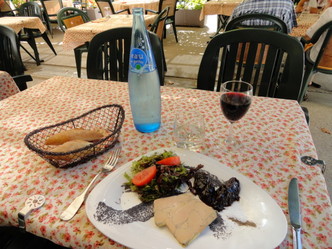 Foie gras d'oie in France
I implore you, Cerebrally Blessed Ones .. those, who in a millisecond, can produce Pulsing Nitrogen Lasers, light sabers, CD's, DVD's, hybrid trees, computereez (oh, the gift of language), rockets, sprockets, cameras, television, radios, Facebook, Yahoo, Google, popcorn makers, corn bread bakers, Skype, microwave towers, AND the 8 track tape ... Please, please, please ... make me "THE POD". Send me with "God Speed" to the mountains I feel cradled within, the island that nurtures my soul, and France .. Wonderful France which brings the creative self to life.

I leave it fully on your shoulders, Scientifically inclined Humanoids, this pain I suffer. You have failed me in the past, but I have faith in your abilities .. hope in your talents. Lend an empathetic ear to my plea, won't you? Please, don't leave me ... with Clipped Wings.
You see, I have time to spend ...

from Kauai to Paris ... and all places between