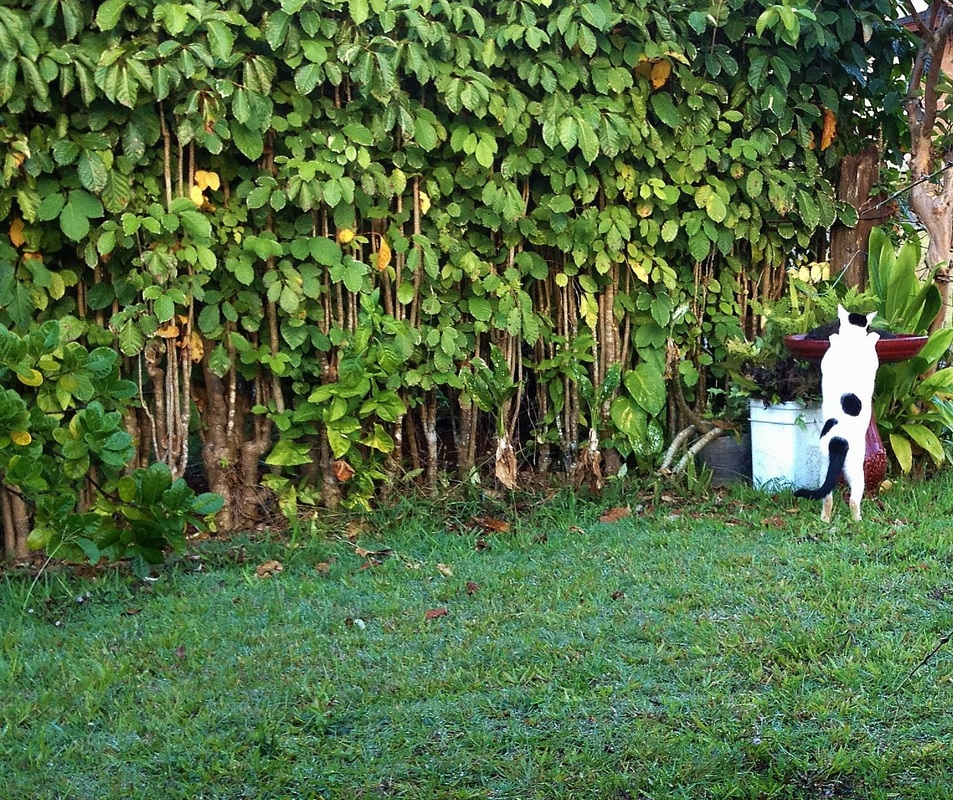 Vicious Bitch drinking from the bird bath ..
go here
to discover how she acquired her name.
Few moments in life are better than sitting in the yard on a beautiful day with friends and loved ones. For this purpose we keep a pile of plastic lawn chairs that are easy to manage and comfortable as well. When our gathering is complete, the chairs are stacked and sitting at the ready for another sunset fun fest.
Right ... In my dreams ..
Reality check! A couple of months ago my good friend Daniel stopped by. It was a picture perfect Kauai day and we headed for the yard. First of all, let me pop my own bubble by confessing that all our lawn chairs are not neatly stacked as stated above. In fact, they are strategically placed around the front, back, & side yards for easy access by lazy guys (me) who don't feel like hauling them to the carport after every get together. As a direct result of this slovenly habit, and the fact they just seem to love the chairs in general, guess who plays musical lawn chairs on a daily basis? of course you guessed it .. who else but Baby & Vicious Bitch.

Now don't misunderstand, I love those two eccentric fur balls .. but nearly half the lawn chairs in our collection are now permanently impregnated with the beautiful red soil of Kauai. One would think they could select a favorite chair or a favorite part of the lawn and the top chair of the residing chair stack for that area .. one would think .. But nooooooooo, the two Feline Monarchs of Pu'u Road randomly move from stack to stack in their never ending search for Kitty Bliss .. depositing red particulate matter in their wake. Therefore, more than half our collection of lawn chairs are designated "butt stainers".

The day Daniel and I "retired to the lawn" (Say "retired to the lawn" with a deep southern accent .. it's a beautiful thing .. now, back to my story) ... that day was no different than any other in relation to seating. I rushed ahead with a wet rag to wipe off two menacing seats, but I noted Daniel was wearing light colored pants and feared this approach was without merit. Like any good host, and the classic man without a plan .. I dashed to the bathroom and scooped up a couple of towels to protect us both from inevitable "exterior bottom encrustment". We had a very enjoyable visit and Daniel went home with shorts the same color they were when he arrived. I retired to the house. And the chairs? .. well, they sat in the lawn with our good bath towels in place.

It's not as if Baby and Vicious have no special place to sleep. We've gone to great lengths in order to make them comfortable. Two fancy cat beds were purchased, blankets were laid out on our entry because they seemed to like that area, and they always had the chairs .. all of the chairs. But where did they sleep on the night following Daniel's visit .. of course they slept on those two chairs. Those two chairs with Darlene's favorite towels .. those two chairs I had neglected to gather the evening before .. of course.

It must have been a particularly active night for the "girls" prior to them settling on the toweled thrones. I can only imagine what nocturnal roaming's and adventures took place. Judging from the look of our towels the next morning when Mr. Forgetful (me) went out to collect them and find the closest depository stack for the chairs, I can only assume Vicious Bitch and Baby had participated in the first annual Kauai Cat Mud Wrestling Championships .. and they had been the big losers. Our nice plush bathroom towels now displayed a familiar coloration ... Kauai earth red.

There is a business on Kauai that produces T-shirts. These shirts are called Kauai Red Dirt Shirts. The process of producing them was discovered by chance when a shipment of white T-shirts was inadvertently stained by contact with the red volcanic soil. My understanding of the process is that white shirts are tossed into a container of water and Kauai red dirt. The end product is a rusty red that will last through eternity .. as does the stain of Kauai earth on your carpet if you are foolish enough to go against tradition and wear shoes in the house. Our towels were trashed.

As I looked into one of our covered carports yesterday, there was one small stack of our extensive garden chair collection. On top of that stack rested a fancy little Kitty Bed. Another wooden chair contained the other fancy little Kitty Bed. And flanking the small stack of chairs are two lawn chairs ... each draped with a red stained bathroom towel , and one of these being occupied by Her Royal Highness .. Baby.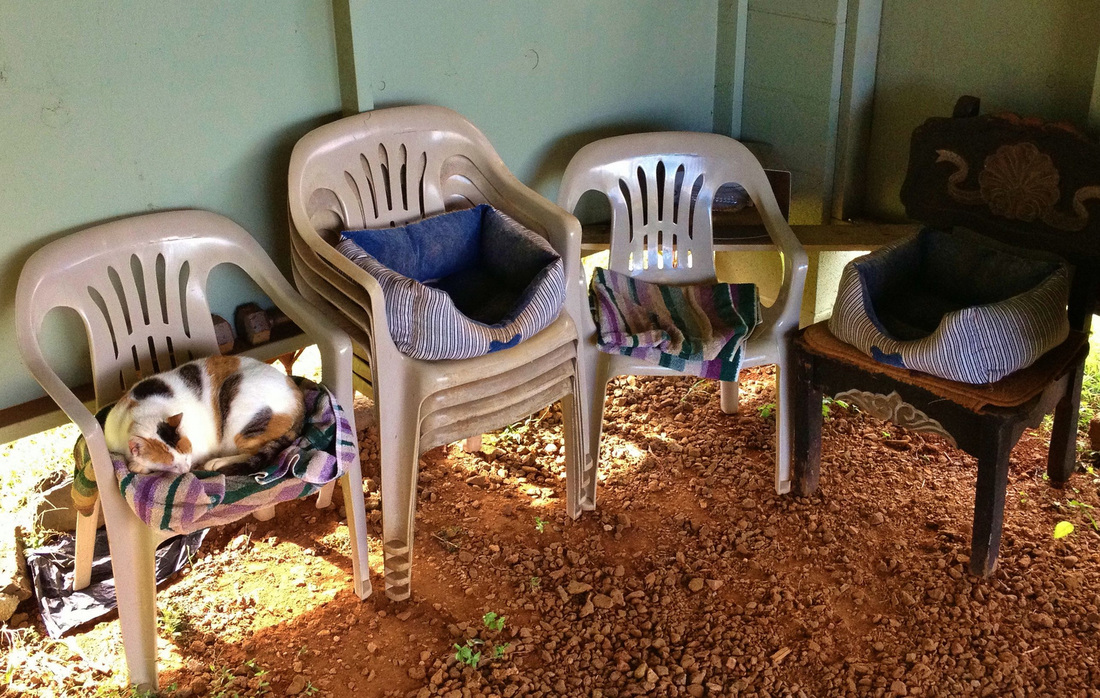 But where is her running mate .. her co-conspirator .. the other half of the dirt caked midnight ramblers? Are these perches not enough? Have I not capitulated fully to their needs .. their demands .. their effect to my causation?


They've stolen my chairs ... why isn't Vicious participating in the Victory Nap?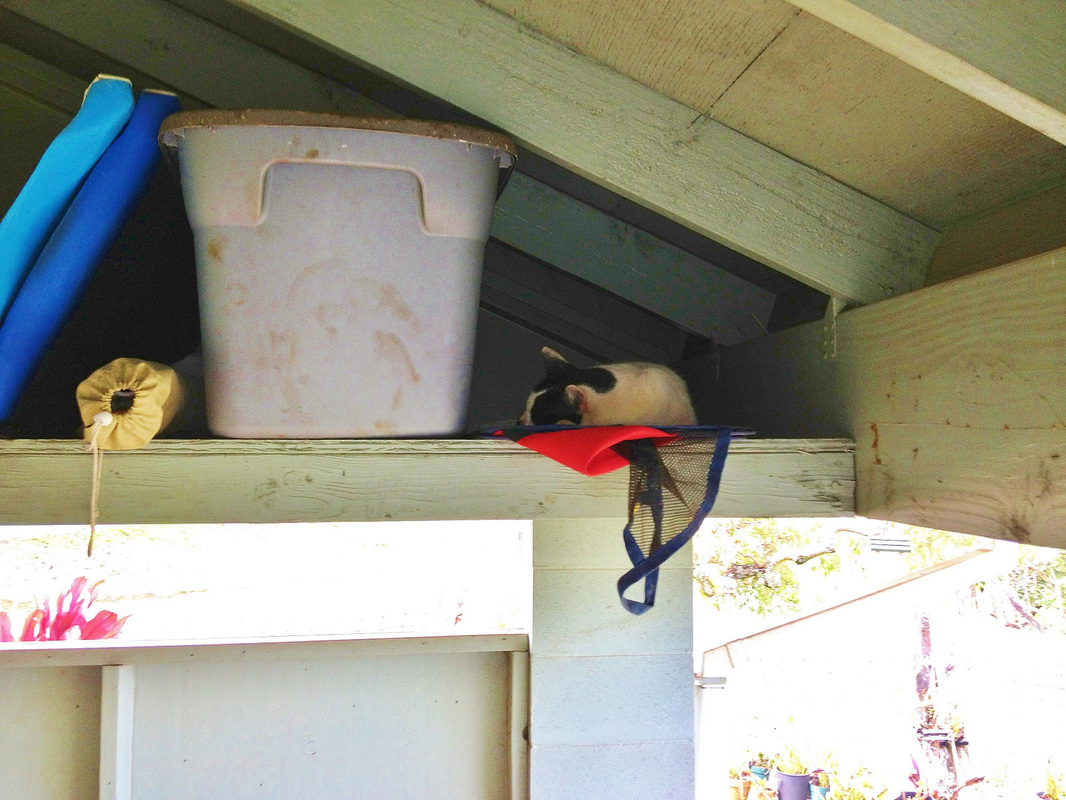 ... are you kidding me!

In light of recent events, my pal Daniel will be requested to wear dark pants to future lawn parties, Baby and Vicious Bitch will be banned from attending next years Kauai Cat Mud Wrestling Championships, and I will be unavailable on Thursday afternoons as I visit a highly acclaimed and renowned Human/Feline Behaviorist.

Beware Friends .. Cats own us .. and they steal chairs!


from Kauai to Paris ... and all places between

Bill