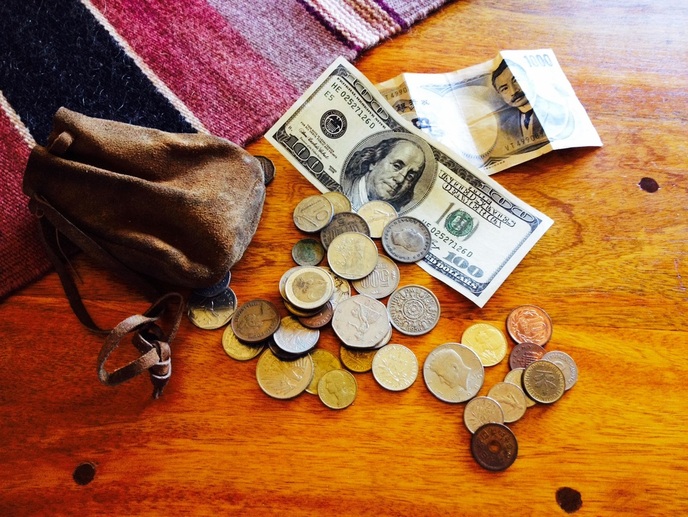 I received a message from my Mother today. She is concerned I haven't posted on my blog in over a month. I began answering her message and magically The Muse arose and produced the following:

"All is good here and very busy. My blog has taken back seat from the need to produce business. Unfortunately it appears creativity and work aren't synonymous, therefore The Goal continues to be finding the way to quit "working" and begin "creating". I'm completely convinced if one is not creating from innate gifts, then we are not fulfilling our potential in life and can never be truly gratified and happy. One can "work" with money as a goal or one can "create" with happiness as the goal .. and with that happiness will automatically flow the money and other tools necessary for daily sustenance. The choice is clear to me, but making the transition is difficult .. I'm wrestling with that right now. I know the path to true happiness is in creating from the particular "gift" each individual has been blessed with. The tools for survival (I.e. money) will come as a direct result of that happiness earned from living our passion, but the transition from the lower thinking "I must have a job" mentality to higher thinking "I want to create and share my gift with the world" mentality is difficult and will remain difficult until I make the finite decision to take that big step from one reality to the other. In the meantime, I'm striving to become comfortably poor so I can move forward with little or no debt or financial obligation. And now that I've written this to you, I do believe it is good fodder for a returning blog post .. Thanks Mom!"

Comfortably Poor .. what is it and how do we achieve this enviable state?

I envision Comfortably Poor as that place where we possess everything needed for daily comfort, with no looming debts, no desires beyond what we can afford, and enough "padding" to weather any storm .. a place of freedom which allows us immeasurable time to follow our call to creativity.

How do we achieve Comfortably Poor? We must first establish a burning desire for something more than an existence based simply on monetary values. We must also realize and exercise our innate gift .. that blessing which was bestowed on only you .. the unique and precious gem of your very existence. I believe establishment of Comfortably Poor will follow these two acts. However, like the majority of you, I am "working" to pay everything off so I can become Comfortably Poor one day .. still not trusting my gift enough to make that change from "work" to "creativity". Maybe we achieve Comfortably Poor once we establish enough faith and trust in our inner voice to follow its guidance. I think it can rightfully be called .. "growing a set".

The blessing we receive by utilizing our gift is the sharing of that gift with others. Think of those great creative beings amongst us .. how they touch you with their creativity .. a song, a painting, a book, an invention, the beauty of a farm that has been cultivated by one who truly loves the land, the passion of a teacher who truly loves instilling knowledge on another. This force of positivity cannot be duplicated artificially nor can it be suppressed. The power of our creative spirit is why we exist. It is our individual responsibility to realize what our gift is, then utilize and share it.

I envy those of you who have found your gift and are living the happiness inherent to existing as a creative being .. those of you who are totally impassioned with your lives on a daily basis. You are the few, and I thank you for sharing your gifts and inspiration with those of us who are teetering on the fence. As for my fellow seekers .. those who "know" but haven't "done" .. I believe we are but one decision away from happiness and I wish us all the wisdom to take that vitally important step ...
from Kauai to Paris ... and all places between

Bill