In our currently dysfunctional worldwide Human Experience, Girl Power gifted my soul this week and rejuvenated hope that we humans can be the greatest creation. As the brutal realities of horror pervade our collective thinking at every turn, it becomes more and more imperative that we are reminded of the "higher" qualities of humankind. I take this early opportunity to express my thanks to the three women described in the following "tribute"... three women who unknowingly and inadvertently lifted this man from despairing thoughts and helped me refocus on the light of truth, hope, and healing.

The 6th annual Kauai Marathon began at 6:00 this morning. We were watching from lawn chairs in soft morning light when the first runner turned onto Pu'u Road and lightly drifted by our home. Everyone on our street was surprised to see her, and cries of "Girl Power" were instantaneously echoed amongst all those ladies seated along our block. My home is approximately half way through the course, so being the leader at this point is an impressive feat. I don't know the final results of today's run, but this woman appeared "calm & strong", pony tail keeping cadence as she moved effortlessly into and out of our view.

Any person who takes on the commitment to complete a marathon has my deepest admiration. I give "props" to every single person who ran, walked, or attempted to meet their goal today .. but I want that woman to win, and I have my fingers crossed she continued to the finish line as the first woman to be overall winner on Kauai. Something deep inside tells me she has earned that right .. something deep inside me wants this one to go to the girls who felt such joy at seeing her strength and who were living vicariously through her achievement as she floated by.
You Go Girl!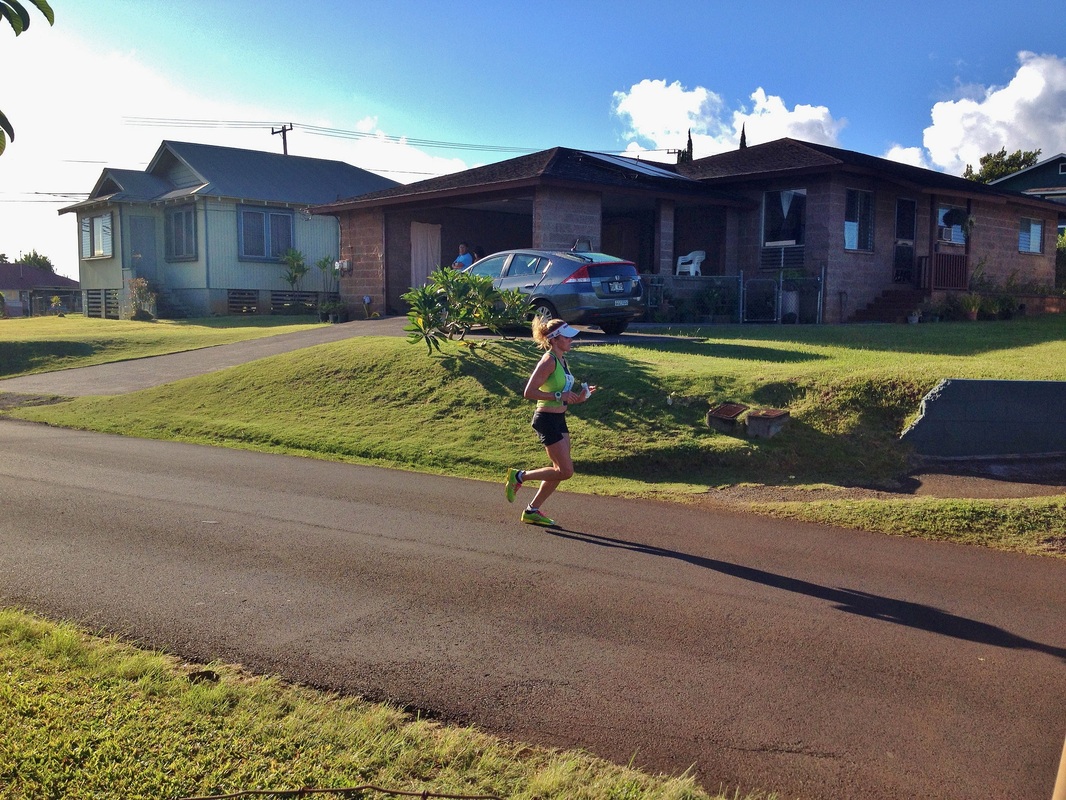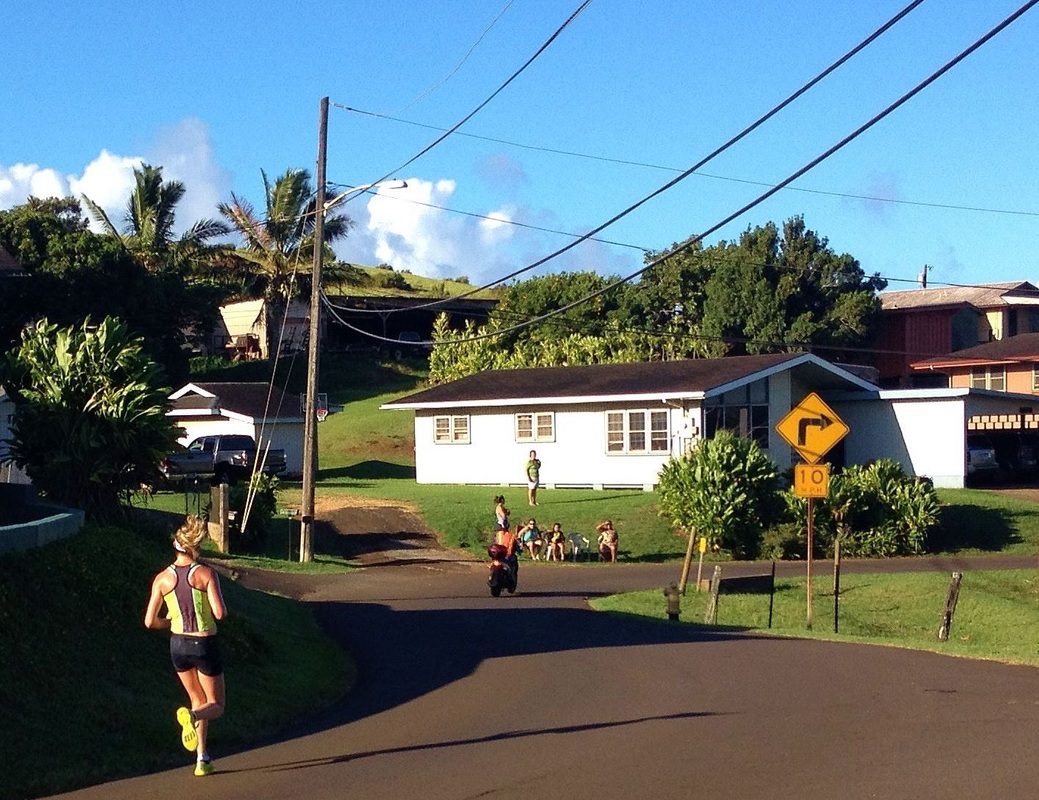 Volunteers
Volunteers .. they are the backbone of every event. Nothing happens without those who are willing to give time and genuinely enthusiastic energy to the "cause" which resonates within them.

Lisa"Cali"Crampton, Ph.D. appeared on the grassy area by the road today. She was wearing a Kauai Marathon T-shirt and it was obvious she was stationed at Pu'u and Auwae Roads for the purpose of helping direct traffic. What wasn't immediately obvious was Cali's soon to be vocalized accolades for every single runner who appeared. She came .. she cared .. she gave. I liked this person immediately. We started communicating and it wasn't long before my initial "good feeling" about Cali was validated. Lisa "Cali" Crampton, Ph.D. is Coordinator for the Kaua'i Forest Bird Recovery Project ..
The logical complexities of her endeavor would surely escape my intuitive right brain approach, but all I have to know is this: Cali Crampton is working to save birds ... possibly the most fragile, graceful, beautiful creatures on our shared orb ... creatures that only one entity (go ahead, take a guess) has caused to be nearly extinct from existence. Cali, and others like her, are working to "right the wrong" and regain balance. This type of action is imperative in restoring our kokua (spirit of cooperative effort) with the nature around us .. this type of action is an absolute necessity in the process of humankind reaching our collective potential for self realization so we might rejoin and enhance our natural surroundings.

Here's to you, Cali, and others like you. Merci for the path you follow and Mahalo for being a member of the Girl Power team who elevated my Spirit this week.
RUBY
Certain gifts do seem to magically appear as a direct result of making the concentrated effort to be a better person. The third person in my Girl Power triad was one of those unexpected gifts. I met Ruby while awaiting my Client for a condo showing. The showing rapidly took second place to that rare and precious happening which occurs so infrequently .. a conversation based on higher thinking and principles, during which both parties are in complete understanding and agreement. I can think of no other time, short of direct communication with our Creation, that is as uplifting and gratifying to the human spirit. The encounter with Ruby filled me with hope, joy, and renewed knowledge there are enlightened beings who share one another's thoughts, hopes, and dreams for compassion and healing. Mahalo Nui, Ruby, for being a "Light Conductor" during our very rare and special chance meeting.
Dear Readers - Please know..
Our planet is currently embroiled in madness .. humans are performing unthinkable acts against one another. For those of us who are safe on the outside looking in, the viciousness and the brutality may be inconceivable .. but it is real, it is happening. Our Family is hurting one another & the pain is as excruciating for one family member as the next.

If we let the above fact affect us negatively, as it affected me for a few days this week ... we all lose. If we believe there is no hope ... we all lose. In some way we must become one mind .. one mind focused on that pure and perfect light we innately know to be our Higher Selves.

My thoughts may appear unreachable and unrealistic, but I will continue to plant a seed of hope for mankind because I'm certain the path of self realization, followed by that action of sharing our higher discoveries with one another will eventually transcend greed and ego based realities. Thankfully, whenever my belief mechanism begins to dim and fade in the darkness of our imperfect humanity and I can't tear myself from a senseless depression caused by the ten o'clock news, some unforeseen event always validates my dream with substance.
***
Ladies of Girl Power ..

You not only validated my beliefs this week,

You exemplified the hopes and dreams of Higher Thinkers ...

from Kauai to Paris ... and all places between

Mahalo et Merci,

Bill


"Hey Bill, what about the mango and guava in your first photo?", you might ask. Well, let me tell you .. the mango and guava pictured above were so sweet and luscious they were very nearly freaks of nature. I wish every single person on the planet could have tasted that mango. Yummy!


Unfortunately, they don't thrive in war zones ..

much like humans .....