Out the Kitchen window ...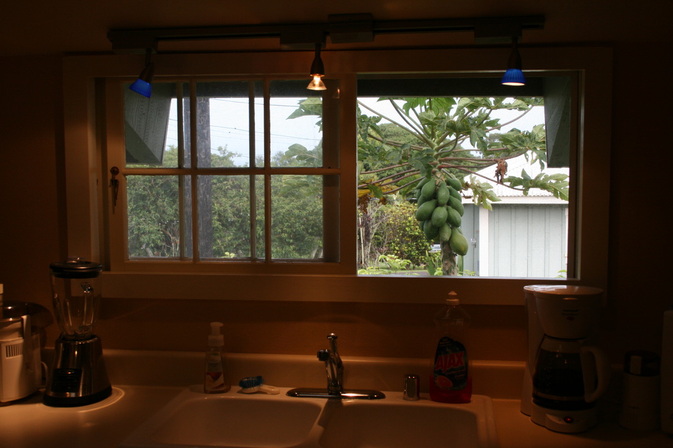 It is a blessing to live on the island of Kauai. On a very personal and intimate level I feel I am one of the sixty five thousand luckiest human beings on our planet .. it is truly that wonderful. But no matter where one lives, life presents its challenges and cold realities ... maybe more in the last three or four years than anytime in the preceeding sixty. Beautiful locales are not immune to the realities of our modern world. We are all connected to the same circumstance and pulse of this orb .. the angst of one place is the angst of another .. one human suffering is all humans suffering. In that respect, Kauai is Paris and Paris is Kauai .. and all places between.

The good news .. we are awakening

Last year I went to Hanapepe town on a Thursday afternoon at 3 o'clock. In each individual community on the island there is a scheduled Sunshine Market where growers present their luscious gift of fruits, vegetables, and flowers. Hanapepe happens to be my favorite market .. and like produce markets the world over, it is not only rich in product, but rich in the positive energy of those who work with the earth to provide the rest of us with yummy table treats. The market opens precisely at 3:00. No one is allowed to purchase prior to that time .. but, my oh my, does everyone posture and jockey for position to get exactly what they want when the bell is sounded (yes, someone actually hits a big bell with a hammer to start the market). It is a civilized affair, with shoppers arriving early and viewing the different stands, deciding which goodies to bargain for with their handful of dollars. In fact, the preliminary parade is possibly as important as the food itself. Old friends, neighbors, and newly acquired acquaintances, met while looking at a bunch of apple bananas or an oversized avocado, give the open market a life connection we will never find rolling carts down the aisle. All is perfect, providing you don't experience the elbow of a sweet little lady who has her eye on that delectable bunch of Filipino long beans ... and even that comes with a beautiful smile.

On this particular shopping day, I purchased a few Kauai Sunrise papaya. There are a gazillion varieties of papaya on Kauai .. but nothing comes close to the taste, the texture, the aroma, or the heavenly mouth experience of a Kauai Sunrise papaya. And, as with all produce, some particular fruits are just better than others. This was the case with these papaya. The first taste .. I knew this had to be duplicated. For some time I had been wanting to plant papaya in our yard, and these incredible fruits pushed me over the edge. Soon I was drying the seeds .. preparing the soil .. waiting for the full moon before planting (Farmers Almanac must be correct :) .. and watching my "babies" grow.

This morning was like many other mornings in our home .. up early, put on the coffee, turn on the computer and check the market and emails while its aroma begins to work on my salivaries. Sitting on the counter was a ripe Kauai Sunrise papaya. I picked it two or three days ago and waited while it turned a golden yellow and was ready. Out the kitchen window is the proud parent of this magnificent fruit .. from seed .. a glorius duplication of last years shopping.

When I sat down to enjoy my breakfast .. I reflected on how very nice it would be if every person could have the opportunity to taste it ...


from Kauai to Paris ... and all places between


That was my thought ... as I looked out the kitchen window.