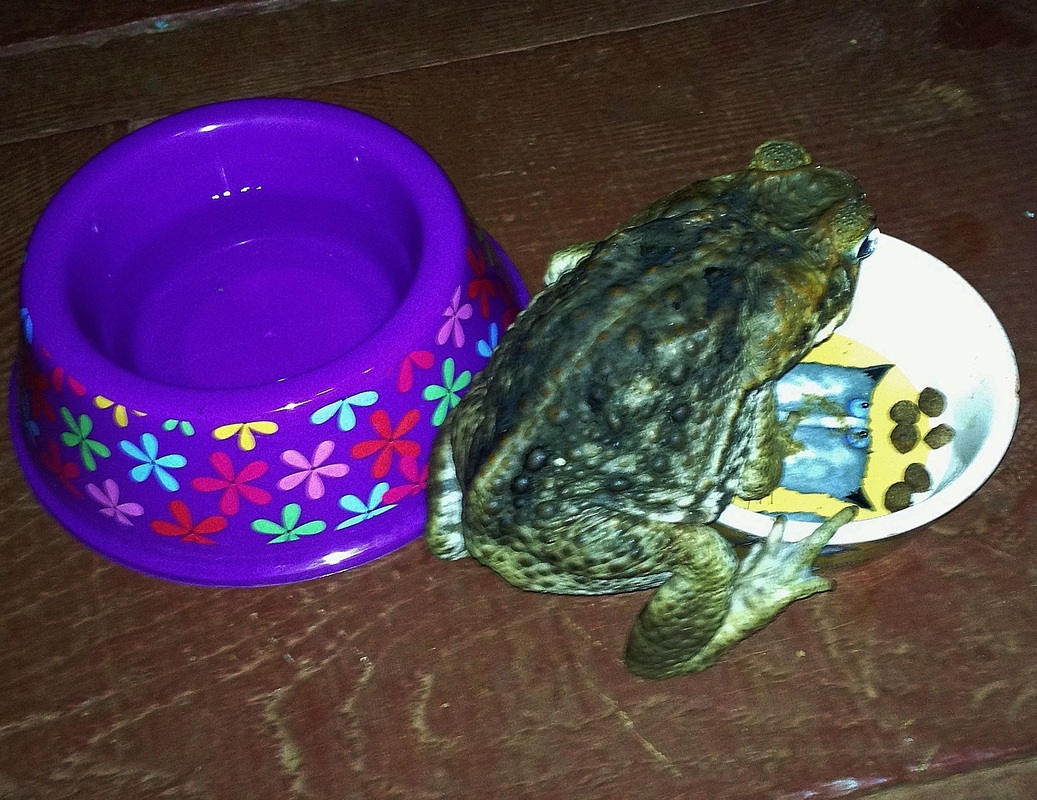 It is my nightly ritual to step out onto our little entry porch and say "goodnight" to Baby and Vicious Bitch, who are generally tucked into one of the four kitty beds we've made available to them. Yes, four, because they are spoiled rotten. Many nights they will slowly descend from their elegant perches to saunter over, have a final nibble for the day, and demand a goodnight pat. This was the case about a year ago when I looked down on the drive and saw the largest toad I have ever seen in my life. As is my custom, I immediately began talking to this toad. Who knows what frivolity came from my mouth on that late night .. I certainly don't remember. I do remember, however, throwing a few pieces of cat food in front of the toad and watching as he actually ate them.

Not thinking much about the previous night's toad sighting, I went onto the porch the following night and began talking to the cats. As I was vocalizing the usual banter, out from nowhere appeared the toad and I once again gave him a few pieces of cat food. The toad soon became a part of our nightly ritual .. I talk - he appears. The cats didn't seem to mind .. in fact, they did (and still do) look at him with a curious stare as he stoically sits and eats ... one piece of food every two minutes or so.

As I watched the toad over some weeks I began to see a personality which I likened to be wise and fearless. He didn't move when approached and was quick to exert his dominance when lesser toads came around. He had become a part of our late night family affair and I felt it only fitting he be given a name. The name "FRED" jumped out of nowhere, as had Fred himself.

And so it is, on my porch at midnight .. conversation with Baby, Vicious Bitch, and Fred. My captive audience ... willing to endure the ramblings of their human friend for a few morsels of food and, hopefully, because they enjoy my presence as much as I enjoy theirs.

I can only wonder what a midnight walker might think of our convoluted quartet .. a grown man talking to Baby, Vicious Bitch, and FRED ... my midnight buddy. I can almost hear the walker telling someone at home about the guy over on Pu'u Road who talks to his two cats and a toad. Yeah, I'm smiling.

Wishing each of you good friends & happiness at midnight ...


from Kauai to Paris ... and all places between

Bill