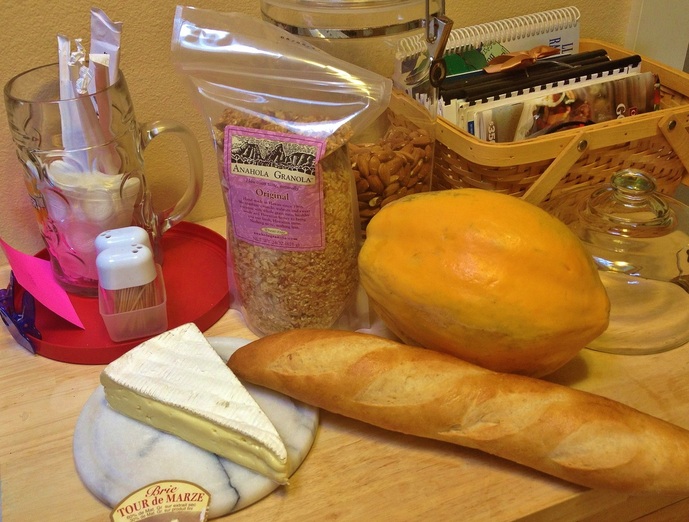 Today I bought Baguette and Brie. The brie was from France .. the baguette was not. I brought my prizes home and hurriedly unwrapped them, anticipating the experience to follow. After taking the photo above, complete with the enormous papaya picked from one of our trees this morning and a newly acquired bag of Anahola Granola .. one of Kauai's culinary treats .. I sat down to enjoy.

It was about three o'clock in the afternoon when I smeared a liberal amount of brie onto the freshly cut baguette and settled into my favorite chair in the living room. The neighborhood was particularly quiet .. in fact all I noticed was the melodious refrain of a few songbirds and the intermittent clucking of a chicken as it fed on insects and seeds around our yard. It was a beautiful day on Kauai and I was at peace when the first bite of baguette and brie touched my palate. It was good.

You will understand this .. this phenomenon has happened to you. The moment I placed the baguette and brie into my mouth .. the instant it was recognized by my body .. it was immediately identified by spirit and soul. I leaned back in my favorite chair and images of moments in France flashed through my mind at blinding speed. I was there .. I was tearing a piece of baguette from it's freshly baked form and smearing it with cheese, or soaking up that last bit of luscious sauce au poivre, or I was simply enjoying the taste, feel, and texture of the bread alone in my mouth. I was there .. watching as beautifully clad and coiffed French citizens created the parade that is inherently unique to their culture. I was there .. feeling the warmth of an afternoon sun in the midst of Les Vendages in the Vaucluse as tractors drove by pulling wagons full of grapes, bound for rebirth to a bottle and their second life. I was there .. in the home of my dear friends .. in my favorite restaurants .. in the early morning line at la boulangerie, anxiously awaiting my turn to select from the treasure before me. I was there .. on the Air France flight from Los Angeles to Paris, the first place le pain Francaise touches my lips when I fly to the other home I love so dearly, half way round the world.

I know you understand. There are tastes and smells that take you to times and places in your own life. Fantastic "stimulators" which instantly transport you back to your Grandmother's kitchen .. or a place you adore .. or even a magical moment in time with a special friend or lover. What an incredible gift we were given .. what an incredible gift ...

Tomorrow morning I will enjoy some Anahola Granola and an incredibly sweet papaya from a tree in my own yard, in the middle of January, on the most beautiful island on earth .. and one day I'm certain I will taste a papaya somewhere in France and it will transport me back here .. to beautiful Kauai. I will be here .. walking through my yard, enjoying the beauty of our orchids. I will be here .. marveling at the fact I can harvest papaya while wearing my shorts and "slippah" (flip flops) as an icy winter holds other places in it's grip. I will be here .. talking with friends and loved ones. I will be here as my mind's eye watches blue water gently slide back into the ocean with that inimitable soft and soothing reverberation. I will be here as Air France lifts off the runway in Paris and heads for Los Angeles, as I probably sip on a good ol' Coca Cola .. or possibly a Perrier, if I'm feeling melancholy about leaving.

When it's all "said and done" and I go to that promised place where this body no longer serves a purpose. When I finally gain the ultimate gift of understanding and all the secrets of the universe are unfolded before me .. when all that transpires .. if I have gained enough favor, I have but one request:

"Please .. bless me with a round of brie, a ripe papaya, and a fresh baguette .. so the memories of these two places are mine for eternity. I'm certain what's to come is truly incredible, but I'd be ever so grateful if you'd honor this lowly being who simply requires papaya, baguette, and brie."


Dear Reader ..
Whatever your dreams may be .. I wish you Papaya, Baguette, and Brie ...

from Kauai to Paris ... and all places between

Aloha et Au revoir,

Bill