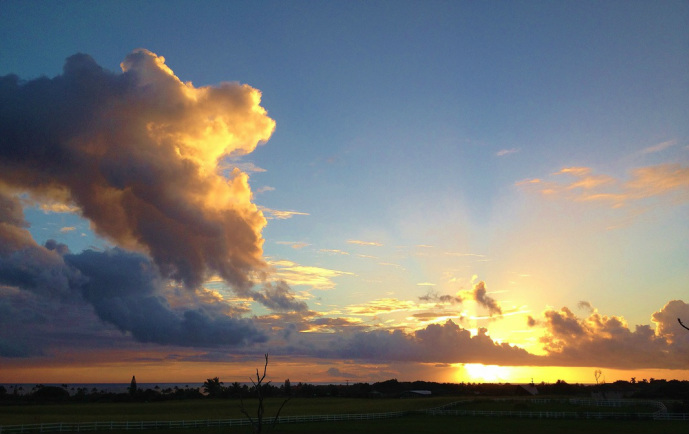 Driving home from Poipu yesterday, I was amazed by the beauty, power, and majesty of the sunset shown above. Of course photos never capture the complete intensity of nature, but I do hope you can tell from my roadside attempt .. it was incredible.

That sunset marked the end of a wonderful day. Every human being I met yesterday enriched my life. From the moment I walked into my office in Kalaheo until the moment I walked into my home in the evening, life was a series of pleasant exchanges with people who were seemingly put on earth just to make me happy. That sunset caught my attention, made me stop, and allowed time for me to reflect and be thankful for the rare and uplifting experience of the preceding hours.

It's a shame I didn't take photos. I would love to have shared a picture of Ashley, one of the front desk persons at Aston .. she was beaming from ear to ear as she showed me her newly acquired engagement ring. Nothing is more beautiful than a person in love. You would all enjoy a shot of the smiling maintenance men at Poipu Sands condos as they trimmed the hedges and mowed the lawn .. taking a moment of their time to smile and share an "Aloha" with me as I walked into the condo I was showing. The couple staying in Poipu Sands who were so nice and gracious to let me interrupt their vacation .. I can't even begin to tell you the inner beauty emanating from them. And that's how my entire day "played out". Not one negative moment nor even a glimpse of another human being who was anything but happy. A rare day indeed.

I love them .. every one of them. Too bad .. I so want to share photographs of them with you. I know you would "feel" all of them, just the way I felt them .. magnificent creations that they are. The best I can do is convey to you the fact they were each even more beautiful, powerful, and majestic than that sunset. They .. You .. We .. are truly the spectacular achievement.

I wish a day for each of you like the day I experienced yesterday .. filled with happiness and joy, courtesy of your fellow human beings .. the greatest creation of all ...

from Kauai to Paris ... and all places between

Aloha et Au revoir,
Bill