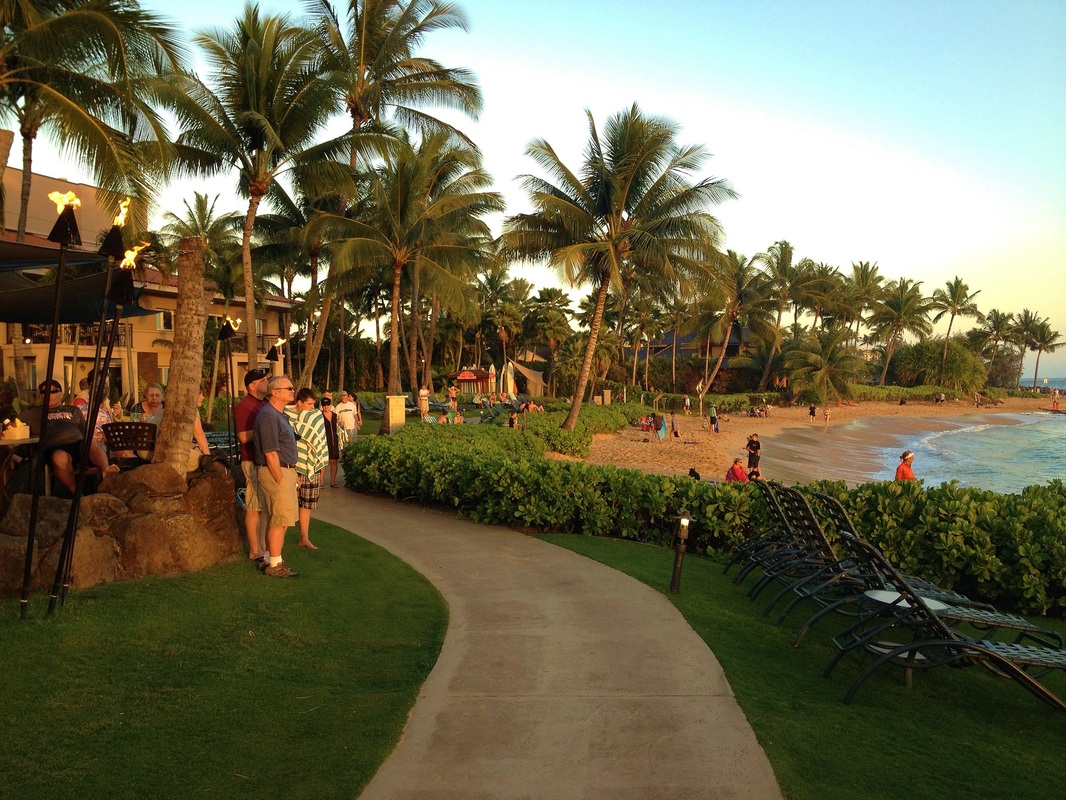 A couple of days ago I met with good friends at our favorite outside gathering place in Poipu. We congregated late in the afternoon as the frenetic beach energy of daytime activity was softening. Everyone was vacating the warm waters to enjoy a refreshment or snack before the Kama'aina went to their homes and the visitors made their way to hotel rooms or condos. This time of day is absolutely breathtaking. Soft evening light combined with the soothing sound of gentle waves brushing across the sand, all the while being gently caressed by warm trade winds .. this is the hypnotic, compelling, and unmistakable allure of Kauai at her very best. This is the time for contemplation and peace within oneself .. perfection in nature personified.

Because evenings and sunsets are so incredibly beautiful on Kauai .. there is always a time of complete awe and silence among human witnesses to the event. As I sit here attempting to come up with some parallel experience or anything synonymous to sunset on Kauai .. I simply cannot .. it is breathtaking. The evening shown in my photos was no exception. The crowds were still, the sun was slowly departing the scene, Tiki Torches were lighted ... and we waited for the magic of darkness and stars and dreams of legends and magical happenings long, long ago.

It was still light when the first scream of joy emitted from a couple not so far away from where we were sitting. Then others joined the chorus, and before many seconds could tick away, the energy was instantly transposed from that soft and quiet time of magic to a new and joyful outburst of elation. The whales were visiting.

Nothing sparks the imagination more than watching a huge leviathan gracefully slide through the water .. slowly and with more dignity and peacefulness than any other creature on earth .. nothing compares ...

We all watched, every single one of us, and each of us had our own thoughts attached to the event. The yelps and exclamations gave way to an even more meaningful silence than what had preceded this appearance. Our "collective awe" immediately became a bond amongst us, and when the beautiful behemoths were mysteriously vanished from our sight, we looked into one another's eyes with a shared experience, enhanced by a greater reverence for all living beings.

Every time I see a whale it is beyond absolutely wondrous. Their energy is so gentle and powerful .. their presence so wisdom filled. They are indisputable Masters of their domain, yet they leave no footprint and display no malice. They are perfectly balanced with the pure nature of planet Earth, as are their fellow creatures ... except for one.

Humans would all be wise to go Whale Watching ...

from Kauai to Paris ... and all places between