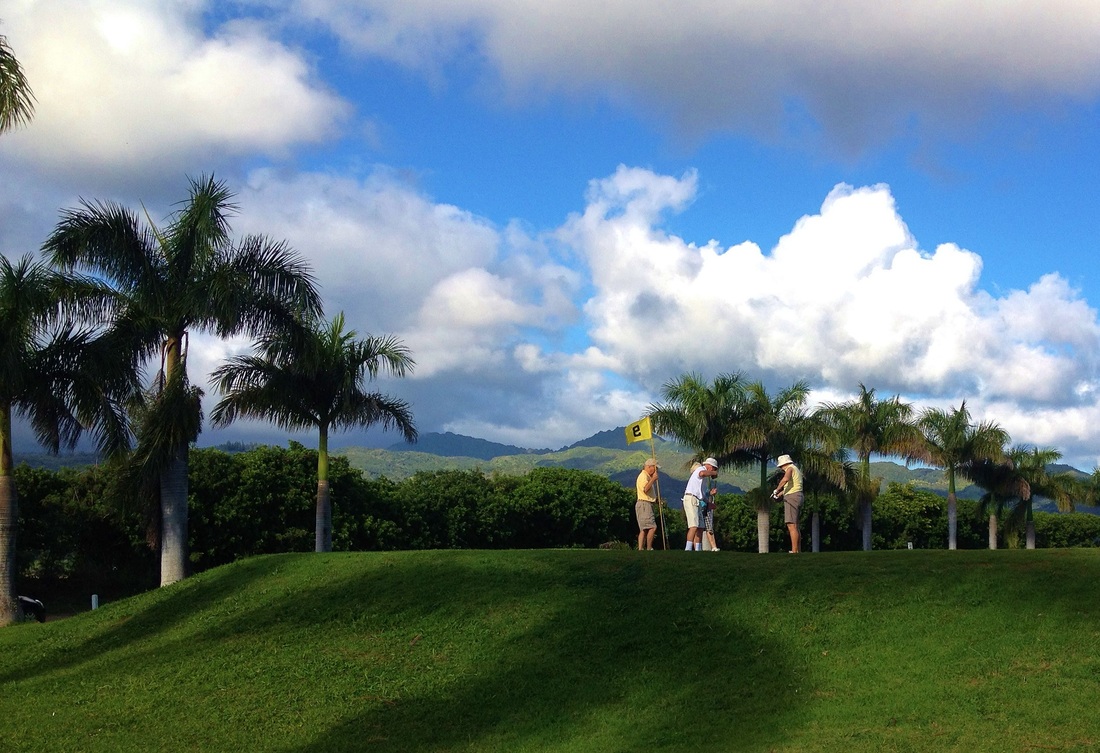 I drove to Kukuiolono Golf Course for a meeting two days ago .. what a beautiful place it is. Perfectly manicured and mown .. peaceful beyond belief, and views that must be among the best Kauai has to offer. From the moment one enters through the lovely stone gate, you know immediately you are in a special place.

When I pulled into the parking lot outside the golf course restaurant, right before my eyes was the idyllic scenario you see in the photo above. Two retired couples surrounded by nature's perfection. I had to jump out and take the shot .. even took a moment to say "Aloha" to these folks and show them their photo. They then departed in their motorized carts .. I walked to the restaurant to talk about a business deal.

The entire experience was excellent. Just picture it .. here I am on the most beautiful island on earth, having a business meeting in February with an Aloha shirt as "winter wear", with views that enveloped me in a visually stimulating environment so rich it verges on surrealism. People talk about going to Disneyland and I laugh inside ... Kauai is the enhanced version with Aloha & Soul. A grownup's paradise for every day existence .. special every single minute of the year.

It goes without saying that golf courses are pricey little amusement centers. I recall when Chris Hemmeter developed the Westin Hotel back in the 80's, the initial cost was 880 million dollars .. that was 1 million dollars per acre and a good part of the cost was dedicated to a golf course that still blows minds under the Marriott flag. I'm certain Kukuiolono didn't cost that much to develop, but you can bet it wasn't cheap. Year after year the beat goes on .. all the courses on beautiful Kauai and the other islands are maintained and beautified, and all the grown ups continue to have these incredible places to "play".

It was a great meeting with a great person and I felt invigorated when we arose from the table, walked to our cars, and said "Aloha" to one another. I headed home.

On the way to my house, not so far from Kukuiolono, I remembered I hadn't picked up the mail so I cruised on down to the Post Office. Clearly attached to the Post Office wall is the "NO SKATEBOARDING" sign .. rather unfriendly looking in my opinion. And everyday I've collected the mail for the last year or two, the boys are there with their boards ... because it's the only place they have in Kalaheo to "ride". They also come down and treat me to jumps at the office, another of the "only places available" to them. No beautiful views, plenty of cars to dodge, and more than their share of dirty looks to deal with as they practice those awesome jumps and intricate moves only known to their generation.

What the hell are we thinking? I'm awake and vow to never, ever exhibit, feel, or say "Move over, kid .. I need MY place to play". Maybe we "Big Kids" have some growing up to do .. realizing our young people need us to provide for them, based on changing times. I'll bet you one thing ... if we do ignore that need, it will be unbelievably expensive, much more than any golf course ...

from Kauai to Paris ... and all places between

ride on, boys, ride on !