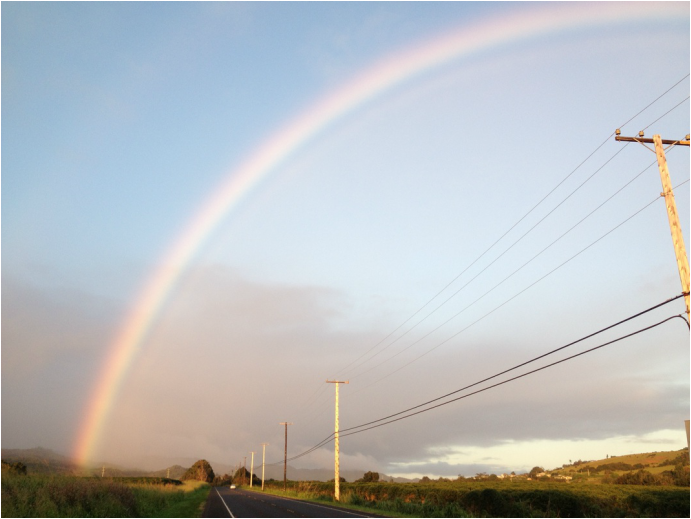 Rainbow kissing the coffee fields of Kauai
Not so long ago, before they left Kauai to continue "Life's Adventure", I met with my dear friends Vanessa & Richard Schwartzel every Tuesday evening to share what we had written the previous week. These nights were very special to me because they fueled creativity and were the center point for striving to live in that "higher place". Yesterday, as I was driving through the coffee fields on my way home from shopping, the beautiful rainbow you see above appeared. After pulling over and shooting the photo, memory of writing the following piece for our Tuesday meeting came to mind .. as did pleasant memories of a special time with special people. I dedicate the following to Richard and Vanessa .. with love & gratitude.

RAINBOWS
They fascinate us. We know there is not a huge pot of gold at their ending, happy leprechauns don't really slide down them, unicorns don't magically appear every time a rainbow forms and beautiful fairies don't dance 'round a glimmering pot of gold where color meets earth. We want to believe these things anyway, and rainbows remind us those fleeting yet fanciful happenings might actually exist. Rainbows help conjure up and make real those visions of mystical places and magical happenings. I cannot recall one time in my own consciousness I've had anything but positive thoughts when viewing a rainbow. We pull our cars off the road to gawk at rainbows. We call our family out of the house when rainbows appear. And who hasn't enthusiastically spoken the phrase "Look at the rainbow!" .. ?

We view rainbows as very special occurrences. They happen infrequently enough to make seeing them a treat. My home on Kauai certainly enjoys a multitudinous display of rainbows, more than most other places on the planet, but I never tire of seeing them. No matter how many I see, they always enrich the moment. They elevate us to a light and peaceful place … stopping time and facilitating introspection. Rainbows are a rare gift.

Rainbows all have the same color combination. Why don't we get tired of looking at them? After all, humans don't have an overabundance of patience. What continues to captivate and thrill us every time we notice those colors painted across the sky? Do we want so badly to believe there really are leprechauns, and unicorns, and beautiful fairies dancing around that shimmering pot of gold? All visually attractive objects leave us feeling good, but rainbows seem to have a stellar place above even the most beautiful. They emit an ethereal beauty that teases us for more .. even as their short lives are spent and slowly dissolving before our eyes. The wonder of rainbows is we know we will see them again, and they will be as beautiful next time as they are this time, and have been every time before.

Rainbows defy ownership. You can take their photo or capture them in a movie, but you and I both know rainbows are never as magnificent in captivity as in their natural state. A captured rainbow is like any other caged being, the grandeur fades and its glowing presence dissipates.

I'm not certain how many superlatives and pleasing phrases can be prescribed to these translucent beauties; like rainbows themselves, the positive descriptors are probably timeless and endless. If you love rainbows and wish to enjoy them forever; it's a great idea to live a good life, because .... rainbows in Hell are black ....