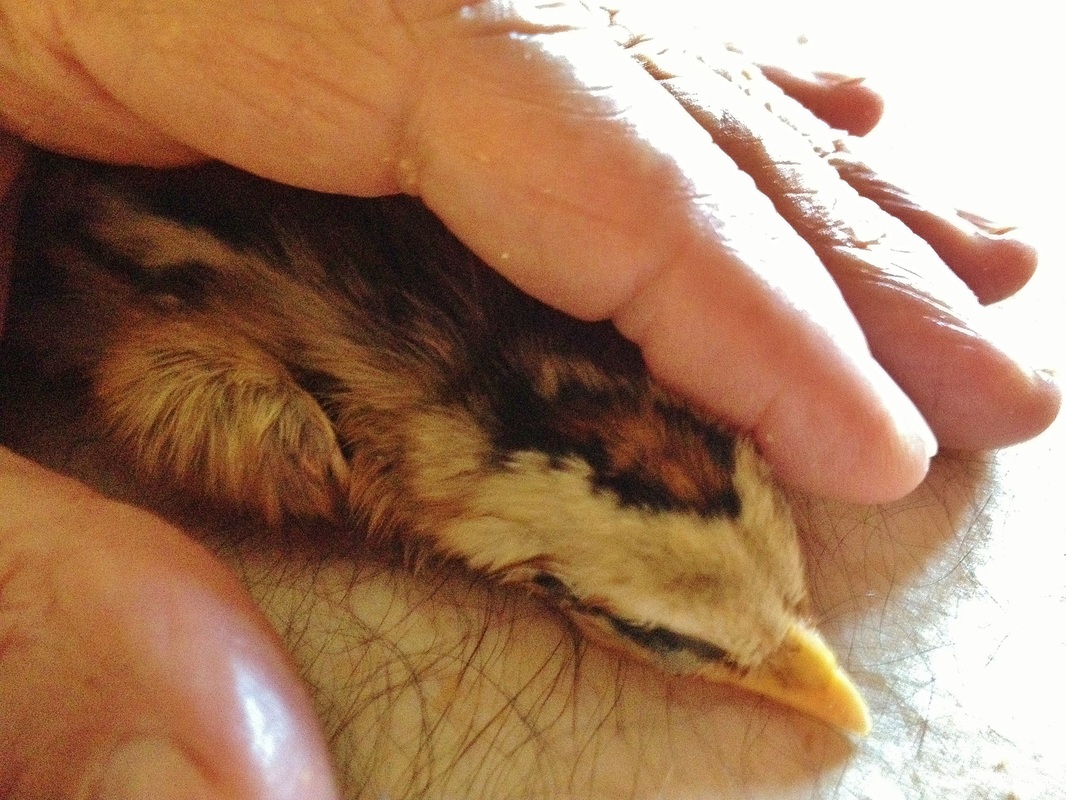 Darlene walked out of our house on her way to work yesterday morning. A few moments later she returned to the door with her hands cupped around something and a look on her face that let me know instantly something was wrong. Held gently in her hands was a tiny feathered baby .. left by its Mother because it was the weakest and couldn't keep up with the others. We immediately began attempting to hydrate the chick and I pulverized some fresh vegetables in that magical kitchen machine I use for my own fresh juices. All the while this little waif was vocalizing the need for its own Mother, but we continued doing the best we could .. knowing her Mother would never reappear as she tended to the healthier chicks, teaching them how to find life giving morsels in the grass around our home.

Darlene had to get going and I had planned my day out, conducting two Open House sittings. After Darlene left, I continued the effort to nourish and strengthen this beautiful yet helpless creature. Holding it gently in one hand, I did my best to give it the liquid sustenance it so obviously needed.

My plan was to get the pitifully weak chick strengthened enough to be able to stand on its own and eat from a container placed in the box we had prepared so it would be comfortable and safe from harm while I was away from the house. But as time passed I realized the effort was futile as this little baby became weaker and weaker.

Somewhere along the line of two hours with the helpless chick, I had fallen in love. The idea of leaving her alone was no longer an option .. in fact, the idea of setting her down was no longer an option. With the realization of death so near, I couldn't bear to part with her, so I took her with me to my easy chair, leaned back, placed her on my bare chest where it was warm and gently cradled my hand around her diminutive body .. and there we sat for the next couple of hours. I sang to her, I prayed for her, and I loved her until she took her last tiny breath and her soul was freed .. then I cried for her short physical existence.

I will never forget this experience. She is buried under the beautiful Tropicana Rose in our yard. The very rose Darlene gave to me for Valentines Day this year. Every time I look at a flower on that plant I will feel both love and sadness for the beautiful soul that touched me so deeply.

She was a precious gift. She was a teacher. The thoughts bombarding me while holding the little chick were truly a revelation. Her very presence in my life for those few fleeting moments gave insight that was desperately needed. She opened a portal to my heart and rejuvenated the power of love within me. Dear friends, one thing is for certain ..
I have been to "Chicken School"
&
I wish the same for each of you ...

from Kauai to Paris ... and all places between