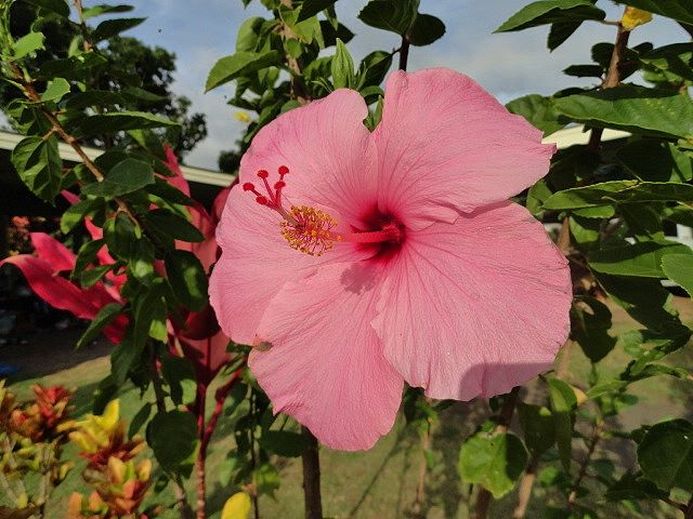 It is nearly impossible to assign specific meaning to the word "Aloha". In fact, it would be sacrilege to dilute this wonderful word by placing restrictions upon its usage. The intended nuances go to the very core of everything good and in harmony within the amazing culture of the Kanaka Maoli .. Hawaii's indigenous peoples. I am not qualified to attempt an in depth explanation of Aloha. The best I can do to dignify myself in a "pono" (right and righteous) manner is to say "Mahalo" (Thank You) to those who have carried this word graciously through the ages so the rest of us are now honoured to speak it. I do believe the word "Aloha" represents the highest form of loving expression any person can verbalize .. finalized with the soft "ha", wishing the breath of life to the person we address. Aloha is a beautiful and humbling word .. worthy of the highest respect and contemplation regarding its usage .. a word one must always share with true affection and love for its recipient. To not give the deepest thought to its meaning every time we say "Aloha" certainly demeans and diminishes its beauty and intent.

"Aloha" is so unique to Hawaiian culture that even whispering it outside these islands brings instant recognition of the tropical paradise from where it originated. It defines a people and their soft, generous way of life. If my amateurish assessment of the word "Aloha" is near correct .. conveying powerfully spiritual nuance to its very usage, and describing a way of life I sincerely admire .. I am happy.

There are times when I sit down to my keyboard and have absolutely no idea what is going to present itself via the momentary muse. I knew writing was on the agenda today, but had no idea what the subject matter would be .. until I received a message from France which began with the salutation "Coucou, Bill". The synapse junctions began to fire, the lights came on, and a new realization of why I love my two chosen places on our planet came clearly into focus.

Vive la difference! If "Aloha" is the word of reverence .. "Coucou" must surely be the definitive word indicative of our shared human experience. Coucou creates such a palpable feeling I have trouble thinking of it as a word and view it more as a pleasant experience which occurs when someone extends its beauty like a soft caress across the room. As "Aloha" typifies Hawaii .. "Coucou" personifies France and Her wonderful people. Such a word! .. polite, playful, respectful, endearing, sultry, passionate, sensual, uplifting, joyous, familial, simultaneously nouveau et traditional .. any nuance of true endearment the user wishes to convey. This is a creative word, borne in the most creative society on earth. This is a word which aptly describes and displays the intelligence behind its usage and the passion for which it is used. Coucou is simply a happy word .. to be the recipient of its use is to be lifted up on the wings of a smile. When I hear it, or read it, or fondly remember the last time someone "anointed" me with it .. I automatically smile and instantly know why France is firmly ingrained within my consciousness. "Coucou" leaves one basking in the feeling of a child whose parent has just praised them .. it is powerfully familiar and loving.

Two incredible words from my two favourite places. Two amazing verbal entities, so different in their origin, yet similar in their spirit. Two words created by our species in order to convey our exemplary selves. We want to express our goodness .. it is our true nature. We are lifted up by our own devices. Even though they were half a world away from one another, those people of long ago strived to find verbal expression of their inner beauty .. remarkable ...

Comparing the two words would be futile and unfair, they are unique to their cultures, but "Coucou" & "Aloha" both facilitate love, giving, empathy, compassion, joy, and a verbalized guideline for peace and harmony ...