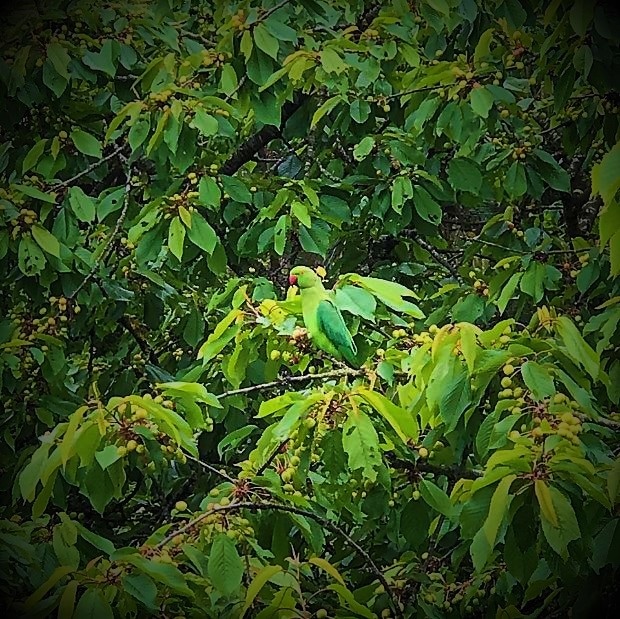 ​In a million years I would never have expected to see a beautiful green parrot, perched for my viewing pleasure on an enormous cherry tree just outside the window, south of Versailles. In fact, had he not moved at the precise moment I glanced outside, I would not have seen him. His plumage was undetectable camouflage within the fruit laden tree. His colors were a perfect match, as was his size .. wings nearly duplicating the surrounding leaves.

​I naturally assumed him to be an escapee, or possibly the unfortunate recipient of negligent caretakers .. those who not only chose to imprison him, but then cast him out to fend for himself when the situation no longer suited their wants or needs.

​Whatever the circumstance of his appearance, he brightened my life for two full weeks as he enjoyed the sweet cherries which seemed to be ripening incrementally for his dining pleasure. He was joined one day by another with exactly the same coloring and size. I don't know if they were brother and sister, brother and brother, sister and sister, or two fortunate lovers who had c0me together in the most unlikely of places .. but it was a beautiful sight to this voyeur.

​It was the month of May. Temperatures were perfectly warm. Temperatures were parrot friendly. I began to wonder about the past few months, or the coming winter months following this period of parrot compatible weather. What would become of this beautiful creature? Would he be capable of surviving the cold? Would he seek shelter and compassion from the surrounding multitude of human inhabitants .. would they respond?

​For two weeks I looked forward to the presence of the friendly flying apparition outside that window. For two weeks he and I gazed into one another's eyes as he feasted just feet from me. For two weeks I contemplated his future .. his past. Here he was, obviously in a strange place .. in an environment which may or may not be friendly to him. For two weeks he added something new to my life experience .. a gift I was fortunate to receive .. a break from the normal experience I've enjoyed for the last thirty years visiting France. For two weeks he enhanced that place and provided me new insight. He gave to me, simply by his presence, by his uniqueness .. his difference.

​Today, just a couple of weeks later, I realized why that fantastic bird appeared outside my window. He was a gift. He was the catalyst and further inspiration for my personal growth ... for my necessary understanding and acceptance of all men, women, and children. He was a teacher to this man .. gifting me with the message of compassion for all humanity. Today I understand what the beautiful soul outside my window represented. I happily recognize and name him ...
"Immigrant"

... and I wish him sustenance and love

from Kauai to Paris .. and all places between

​
Facker
​June 10, 2017