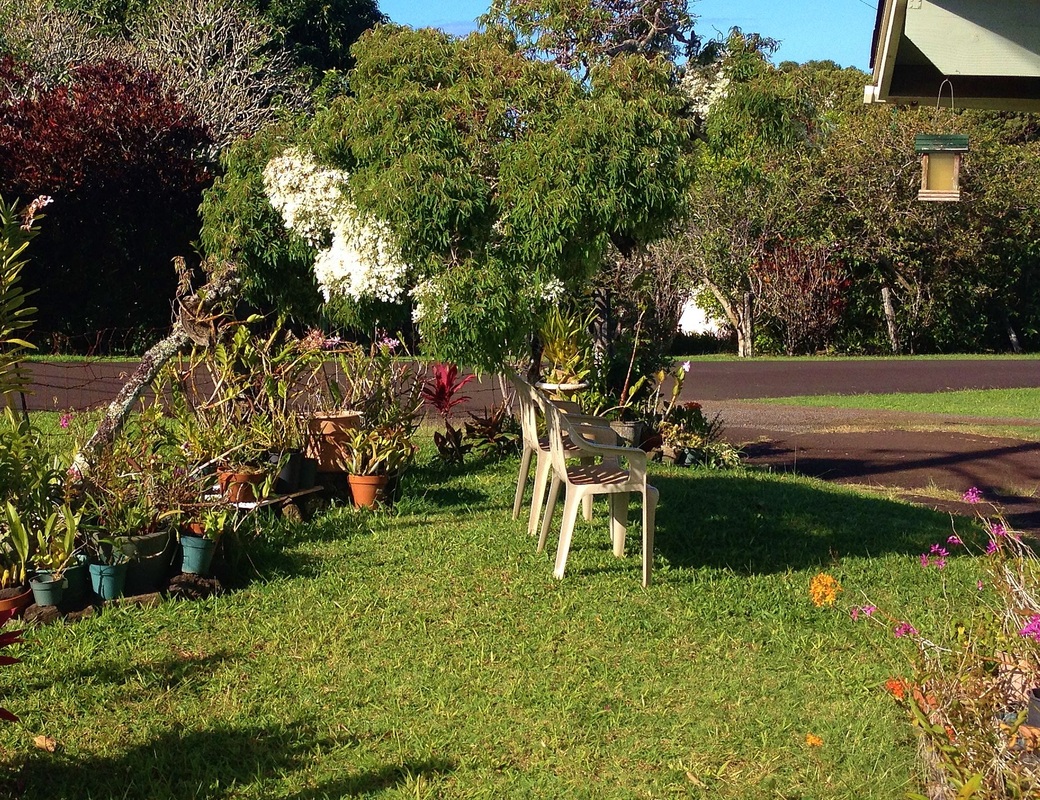 Lawn chairs are placed strategically around our yard, just in case the perfect moment for contemplation and relaxation might present itself. I wonder how many perfect moments I squandered last year .. how many in my lifetime? Before leaving home tomorrow morning I will take a seat in one of the empty chairs you see in the photo above. Upon my return, I will once again take a seat in an empty chair, where I will contemplate, relax, and attempt to capture that perfect moment.

One positive action that will certainly happen while sitting in a lawn chair tomorrow is giving some love to Baby and Vicious Bitch. Our two Kitty Katastrophies are certain to appear the moment I lower myself onto the seat .. likely surprised I haven't continued to the car and abandoned them for a few hours. There is also positivity in the beauty and calm of the morning .. enhanced by soft filtered light and bird songs that seem custom tailored for early sittings only. Evening brings it's own gift as the light of day dissipates .. leaving me with a calm feeling unique to the warm softness of twilight.


Yes, the decision is made .. tomorrow I consciously make the effort to occupy.

No longer do I pass by the lonesome plastic yard sentinels.

No more squandered moments.


You may be wondering what Viagra has to do with two plastic lawn chairs, contemplation, relaxation, and gifts we might receive for sitting and watching the world go by. Viagra hasn't got one damned thing to do with it .. I just liked the Title:

Viagra and the Empty Chairs

Yes, I'm smiling .. C'mon, ya gotta' give a boy a little Poetic License!

No doubt my title idea came while sitting in the yard, stroking a cat, contemplating, relaxing, and capturing that perfect moment. Possibly you have that place .. that special place where you are elevated and enriched by thoughts enjoyed while capturing your perfect moment. I know it's cliché', but there is only today and our chairs are waiting. I hope each of you will take time to sit and capture a perfect moment in your special place ...

from Kauai to Paris ... and all places between

Aloha et Au revoir,
Bill

* Viagra not recommended for deep thinking .. it may cause empty chairs ..
Yes, I'm smiling